I once had a client tell me they spent $20,000 to throw a brand launch event at a hotel for media coverage because her marketing agency told her to. But the luncheon only resulted in one or two press placements. That chunk of money could have been spent on a slew of other things — product development, reordering inventory, or email marketing strategy, to name just a few options. 
In their heyday, these types of extravagant events may have been effective in enticing editors to feature a product or encourage attendees to spread the word. But today, there are countless ways to raise awareness of your brand. 

In total, we spent $1000 and had over 300 people in attendance for our New York City event, including nearly 70 media professionals from TV, to print, to digital.
You don't need to blow thousands of your hard-earned dollars to throw a successful launch event. Instead, leverage your connections, skills, and offerings by following the best practices below.
8 Simple Steps to a Successful Launch Event
1.

   

Get creative with how you find your venue.
Maybe you know someone in event planning who can rent a space for little to nothing, or maybe you can bring something to the table in exchange.
When we were starting out, we reached out to Inglot Cosmetics' director of marketing through a friend of a friend. They'd just opened a beautiful loft space in Chelsea Market on the third floor, with sweeping views of the city. Until then, they had been renting it solely as a space for corporate meetings and to train their makeup artists — which meant that, unlike retail spaces, it would not be constantly crowded by customers if we held our event there.
Having just left the media world, I pitched media attendance in exchange for use of the space. I also proposed a certain number of guests and offered them the chance to sell their own products and do demos for my guests. This was a win-win: They got more exposure to media and more opportunities for sales, and I now had a gorgeous space for my launch party and a fun demo for my guests. It was a bonus to have Inglot's world-reaching brand identity in the mix.
Action step: Figure out what skills you can offer in exchange for space and services. If you're a graphic designer by trade, you might offer to create free marketing collateral for a space. Or, if you're an accountant, you could offer a couple of months of bookkeeping or a financial advisory session. Brands are always looking for assistance with their finances and budget.
2.

   

Partner with young and hungry emerging brands.
At our launch event, my friend Justin Harter, founder of CITYSTICKS, acted as a sponsor to our event by creating custom popsicles using the ingredients found in our fragrances — one of which included liquor. He even brought his hip ice cream cart into the event which guests absolutely loved!
Action step: Make a list of all your entrepreneur friends, friends of friends, and family who recently started a business and have a product or service that compliments yours. Ask them if they'd like to set up a table, demo a product, provide samples, or create custom goodies for your launch event. They'll get access to your entire audience, and you'll have goodies or activities to share with your attendees. Be sure to promote your sponsor on your invitation and at the event.
Enlist family and friends to help throw your brand launch event.
Next, think of friends and family who may be willing to help out at your event; your support network is likely wider and stronger than you think, so don't feel too shy about asking around. At our event, my cousin checked coats and also gave out the popsicles. If you have interns, you may want to call on them to introduce guests to your product, act as a greeter, serve drinks, and so on.
Action step: Make a list of the people you know who may be willing to help or would enjoy the atmosphere or products at your event. Be honest about what the work would entail and how long they should expect to be there. If people do help out, make sure they know how much you appreciate it! The last thing you want is someone feeling taken advantage of.
Play music that will keep people engaged and energized.
Keep the good vibes going by putting together a killer branded playlist or enlisting a live DJ or band. Again, it comes back to leveraging your connections — do you have any musician friends who want to get their name out there with a new audience? We didn't know any DJs or musicians at the time, so we ended up hiring a DJ on Craigslist for $300. The guy was awesome, and we took his card at the end of the night for future gigs.
Action step: Now's the time to call in that favor from your DJ cousin. Think about any musicians or DJs you know, and consider if they could represent your brand authentically. Reach out to people who may be willing to help. Otherwise, start curating a playlist that perfectly exemplifies your brand. Be sure to curate your list based on your brand's ethos, voice, and identity, as well as your target customer profile — not your personal preferences. 
Offer fun activities that will help turn attendees into customers.
At our launch event, Inglot offered our guests makeup tutorials, creating an atmosphere that encouraged people to linger and explore. Think of inexpensive, DIY activities that make sense for your brand. At a wellness-fashion-beauty pop-up called Nude House that I ran a couple of years ago in SoHo, we had a braid bar from RPZL and a crystal-necklace bar from Kalaki Riot. This was a great way to excite and surprise our guests. 
Action step: Consider offering other brands a stand to display their goods at your event. These companies should complement your products or services, not pose competition. For our launch in Washington, D.C., for example, we had fashion brands Kim Schalk and Pico Vela displaying their wares. This ended up being beneficial for everyone involved, as we were able to split the cost of the space in three ways. We rented it for the whole weekend, hosting the launch event on Friday night while dedicating Saturday and Sunday to the pop-up shop. This allowed us to bring down the cost of the launch while also utilizing it for sales.
Don't forget the beverages.
This is one of the easier sponsorships to land. There are so many emerging liquor and wine brands out there and many will gladly sponsor an event by providing free products in exchange for exposure. At the Nude House pop-up mentioned above, we were able to get Montauk Brewing Co. and Cordiale Wine Club to sponsor the event. Depending on your target audience, you may also want to consider offering mocktails or other alternatives to alcohol. In the age of wellness and juice bars, these options are becoming increasingly popular. At our pop-up, we snagged WTRMLN WTR as a sponsor as well.
Action step: Pitch emerging liquor or drink brands that would mesh well with your brand and event, and invite them to act as sponsors. Sell them on the attendees, other participating sponsors, location — whatever will serve as good leverage. You can also contact local stores to see if they want to do a tasting or email vineyards directly.
Stick to small bites.
Don't offer your guests full meals; they won't shop. We learned this the hard way. Booze gets those credit-card fingers loosey-goosey, but food makes those fingers oily and snoozy.
For our D.C. event we partnered with a cupcake maker who created custom treats for us using ingredients found in each of our fragrances. They were a huge hit, and she was able to grow awareness of her catering business as a result. However, the Craigslist caterer for our New York City launch event fell through at the last minute so we ended up ordering loads of sushi and appetizers. It was a great spread — so great that a lot of people ended up lingering around the food table a bit too long.
Consider having a designated host.
You certainly don't need a host at your event, but it's always nice to have an extra set of hands — someone who can help sell your brand story, invite their connections and followers, and act as a liaison between you and your customers, as well as the media.
The turnout was outstanding at both our New York launch and our D.C. launch. While the former did not have a host, for the D.C. event we hired a local beauty influencer for $300. She helped me set up the space, brought in a bunch of fresh local people, and really worked the crowd, getting guests excited about the brand. She ended up being our first "official" brand ambassador before that was even a thing!
THE BEAUTY BUSINESS PRE-LAUNCH (AND LAUNCH) CHECKLIST
Grab the only pre-launch and launch checklist specifically created for beauty, health and wellness brands.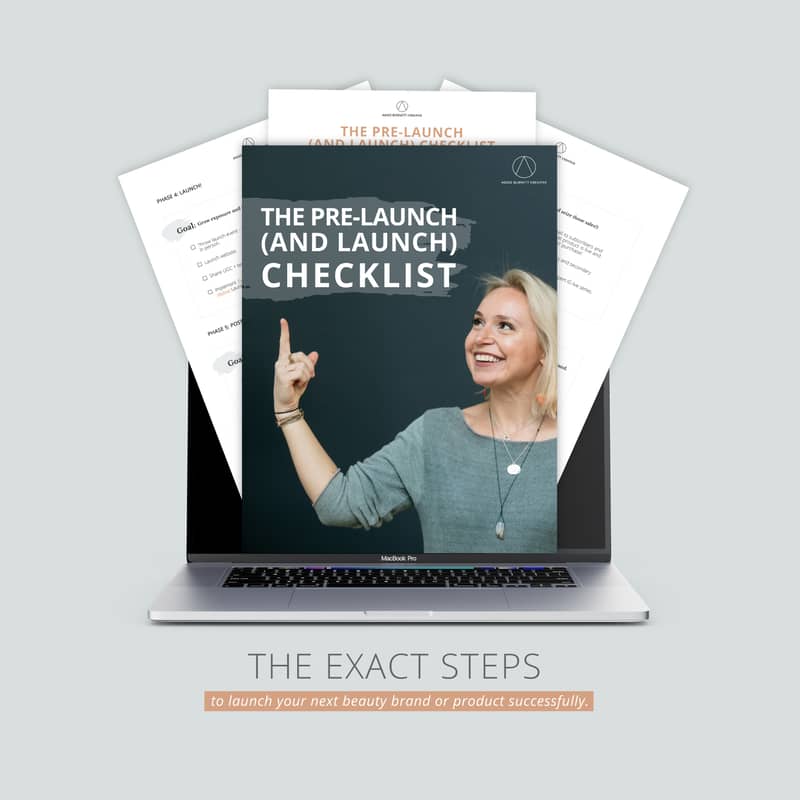 With a little hustle, a lot of passion, and some helpful connections, we didn't end up paying very much for either of our launch events. Here's a breakdown of the things we did shell out some cash for our New York City event.
DJ – $300

Step and repeat banner – $150

Food – 400

Miscellaneous – $100

Our DC event cost slightly more, but we made our investment back and then some by selling our products during the weekend-long pop-up.
More Tips to Throw a Brand Launch Event Everyone Will Remember
Now you know the basics of a successful launch event, but here are a few additional tips to help ensure you get the most out of it:
Make sure everyone involved in your event — those renting the space, the vendors, the sponsors, the DJ — all have access to the invitation assets so they can share the info with their audiences. That means creating the assets for Instagram stories, posts, and captions, as well as email copy, allowing for easy plug-and-play. Eliminate any obstacles or inconveniences would make it difficult for them to share with their followers. Do this as far in advance as possible so you can maximize the reach of your brand before the event.
Continue to leverage new accomplishments and wins with your current sponsors, as well as with other sponsors you've pitched to but haven't yet nabbed. Maybe you landed a pretty well-known DJ, or got some stellar influencers to RSVP. Leverage that, baby! Name-drop like it's going out of style. Let everyone know who's coming and update people on the regular. If you pitch your invitation to the media and get a "maybe" from a local magazine or TV channel, mention that to everyone!
As the event nears, make sure you're reminding everyone who RSVPed — as well as those who haven't RSVPed — of the event time and details. Get final attendance confirmations. Create a sense of urgency and exclusivity around the event. If you're nearing max capacity, send out an email letting people know.
Consider forming an educational panel, inviting experts to speak on the theme of the event. For example, if you're launching a wellness product, you may want to bring in a doctor, a mental health expert, a nutritionist, or a yoga instructor. This is an easy way to tap into new subscriber lists.
Live referral programs can be very effective for enticing people to spread the word about your event. Perhaps every guest who brings a friend gets an additional entry for a beauty goodie-bag raffle.
This one is paramount: Make sure you're capturing everyone's emails. If you're going to throw a brand launch event, you'll be attracting a lot of prospective customers. The simplest way to do grow your mailing list is simply having guests sign in on a tablet when they check in, or have an easily accessible pen-and-paper signup sheet. A little incentive can go a long way here — for example, entering everyone who gives their email address into an on-site giveaway.
Think about providing both media and consumer attendees with small gifts and samples, as well as giving out postcards highlighting the sponsoring brands. This is a great way to get your products into new hands, and you can leverage your partners' products and services to create impressive goodie bags. This is the perfect way to close your event, leaving guests feeling pampered and cared for.
Need to Throw a Brand Launch Event Virtually?
These 8 steps can also be applied to throw a brand launch event virtually. Your virtual brand launch event can still create a moment that people will remember. With a solid theme, the right music, and bonuses, people will be excited about your brand launch. In the place of goody bags, offer a discount code or free samples to the first 100 people. Conduct giveaways and contests.
You can still hold a fun presentation on Zoom for the press, offering a full press kit and mailing your full-size products. The next few hours of your launch event are dedicated to friends, family, those on your waitlist. Your launch event can feature a guest host, celebrity, or someone who fits with your event's theme. You can also opt for a guest interview with someone who's used your product and can do a tutorial.
Action tip:

Be sure to send an official invitation with an e-vite or a physical invitation to your invités' addresses. The first 100 people could be offered a complimentary sample once they attend the event.  
Ready, Set, Launch
Learning throw a brand launch event successfully may seem daunting, but following these basic best practices can help ensure you get off to a fabulous start. Take your time with the planning and preparation, and if something feels off when feeling out potential vendors or sponsors, trust your gut.
And, remember, this is your brand, your dream, your mission — now get out there, own it, and enjoy it!
This article originally appeared in Beauty Independent. 
Are you getting ready to launch your product soon? Want some free resources to help you get started on planning? Take our "What Iconic Beauty Brand Founder Are You?" quiz. On your results page you'll find lots of great resources for helping grow traffic, brand awareness and prep for your next launch! 
Written by Aggie Burnett & Keemia Kaboli.