So you want a memorable product launch like Glossier? Becoming one of the most iconic beauty brands won't happen overnight- in Glossier's case, mega growth was the result from a number of unique tactics. Discover the successful launch strategies that landed Glossier some major ROI so you can do the same. 
It's worth noting that Glossier scored $2 million in seed funding and had a team to help them implement their launch, although these launch strategies can still be successfully implemented with any budget. Even if you're a solopreneur with limited time and resources, these unique strategies by Glossier can help you achieve a launch that will land your brand with more visibility and sales straight out the gate. 
1. CROWDSOURCING
Glossier uses customer feedback as product development inspiration to truly understand their needs before creating anything. Something rare about the brand is the way they heavily involve their fans in their product development process. To Glossier, it's all about having a "two-way conversation" between their user community and product team, according to an interview in Business Insider. At the beginning of her brand journey, the CEO of Glossier, Emily Weiss, invited 100 of her brand's top customers to a group chat where they'd exchange 1,000 messages per week to gain some insight into what they want. Weiss and her team would also diligently take notes from the comment section of Into the Gloss to help with product innovation, better understanding their prospects' buying behaviors, and learning where major beauty brands have been missing the mark.
Case and point: one of their current bestsellers, the Milk Jelly Cleanser, was the result of crowdsourcing. Thanks to constant interaction with their fans both on social media and in focus groups, the Glossier team realized that while their followers had "shelfies" of their favorite aesthetically-pleasing skincare products, their facial cleansers rarely ever made the cut. Once they made the decision to fulfill this market demand, Weiss would send their fans regular updates on the production process, taking them along with her on the cleanser's product journey.
In the end, Glossier created excitement to purchase their new cleanser and ensured the success of their product launch by simply asking and listening to their customers' ideas and opinions.
2. PRIORITIZING SOCIAL MEDIA & EMAIL MARKETING
Glossier grew a faithful social media base + mailing list before launching. If you don't know, Glossier started as a result of Emily Weiss's highly popular beauty blog called Into the Gloss. Through her niche blog, Weiss amassed a large following of passionate beauty and skincare aficionados. 
But it wasn't just her blog that became largely successful. Weiss prioritized social media strategy from day 1. With that objective in mind, Glossier worked to become relevant on social media by doing everything differently. From the beginning, Glossier feels like a friend with her own personal, authentic online persona. Instead of publishing purely promotional content like most brands were doing, the majority of Glossier's posts involved fun memes and relatable content that spoke to their fans. 
Glossier's Instagram has always been their focus. "Our customer is on Instagram, and it's how and where she's crafting her online persona, so we had to be there," Weiss shared in her interview with Entrepreneur, "We used Instagram to launch Glossier, and that's really where the brand is taking shape." Their Instagram account featured swatches, closeups of glowing skin, and images with their signature shade of pink, essentially making their feed into a mood board rather than a sales platform. While they would focus more on IG-aesthetic posts on their Instagram feed, their Twitter was (and still is) the platform where they post jokes and relatable memes to connect with their followers. 
Action tip: While being active on multiple social media platforms can be effective, be careful to avoid feeling the pressure to do the same, especially if you're a solopreneur. Instead, focus your efforts on engaging on one social media platform until you have the funding and support to take on the extra work. 
At the same time as growing their social media channels, Glossier was also implementing their unique CRM strategy in email marketing. In order to grow their mailing list, they created lead magnets like phone wallpapers and skincare quizzes in exchange for their customer's email addresses before anyone else was doing it.
These strategies all served to strengthen Glossier's biggest priority: their community.
3. CREATING A SENSE OF INCLUSIVITY
Glossier's unique focus on inclusivity is a major factor in their relevance today. Unlike many brands, Glossier gives the sense that making their customers feel understood and included is their primary priority over making sales. When scrolling through their social media feeds and their product photos, you'll notice they are always of "real" women of all shapes and skin colors. What's more, their product photos always show women using Glossier to enhance their existing beauty and uniqueness rather than covering up insecurities. As Weiss shared in Business Insider, Glossier is all about helping all women feel more comfortable celebrating how they feel in their own skin, rather than promoting their makeup as a way to mask their concerns. 
Another way Glossier promotes inclusivity is through offering shades for every skin color, including black skin which, up until recently, has been underrepresented.  Their skincare is also adapted to a variety of different skin types. 
4. HONING IN ON AESTHETIC FOR HIGHER ENGAGEMENT
If there's one thing we can all agree on, it's that Glossier is one of the most aesthetically on point, shelfie-able brands on Instagram. It's no accident that they currently have nearly 3 million followers on the platform; their aesthetic was always meant to be one of the major aspects of their appeal. Every detail is optimized to be Instagram-worthy, from the products themselves to their mail-order packaging. 
A large part of Glossier's successful social media strategy is thanks to user-generated content. With a beautiful aesthetic, you're more likely to share their products with your social media network. Every product comes designated with its own hashtag, which Glossier regularly checks and reposts from. Even Glossier's unboxing experience has social media users excitedly sharing its details and fun perks, from branded stickers, millennial-pink tissue paper, a free bubble ziplock to hold your new products, and postcards to match. 
Many of these posts feature normal girls, which they turn into influencers by reposting their page. The prospect of being featured encourages more fans to publicly review Glossier. While the brand still partners with influencers, they regularly share photos of their fans to strengthen these relationships.
THE BEAUTY BUSINESS PRE-LAUNCH (AND LAUNCH) CHECKLIST
Grab the only pre-launch and launch checklist specifically created for beauty, health and wellness brands.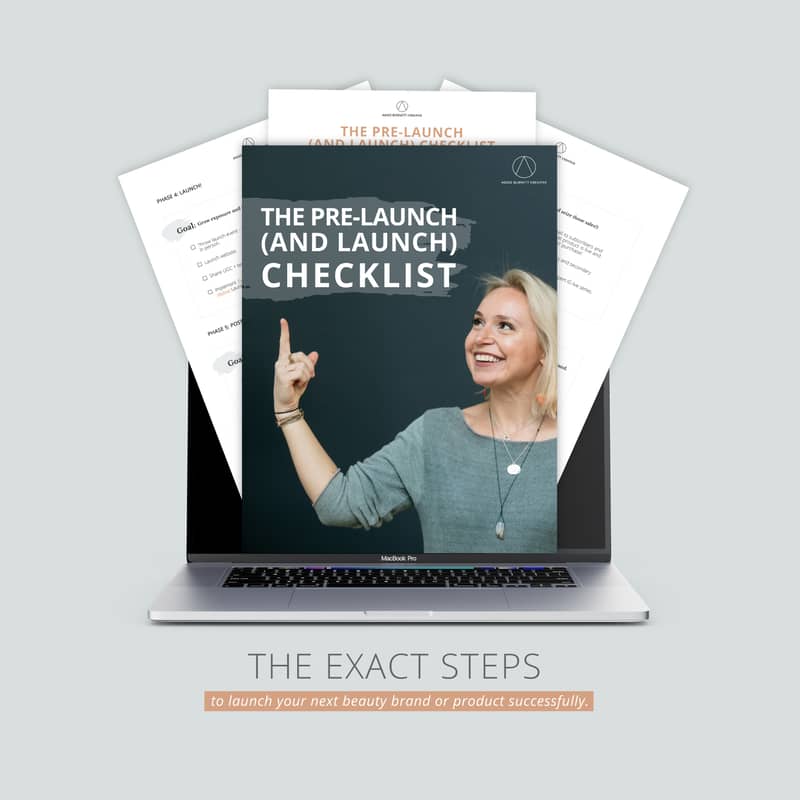 5.  FOCUSING ON TECH
Glossier wants to be known as a progressive and modern brand, and being tech-forward is an integral part of that in 2020. As Weiss shared in Business Insider, "Beauty has really gone online, because that's where the customer is. She's on her smartphone and on social media all day long; she's not spending time browsing through stores, but instead checking out YouTube beauty tutorials and Instagram snaps." The brand's president and CFO, Henry Davies, even refers to Glossier as a technology company.
Even in their physical shops, you can expect an unconventional point of sale (POS) experience. Their retail workers are strategically referred to as "offline editors." To make a purchase, you tell the editor what you want and they order it for you with their iPad before calling out your name once the order is ready. This not only makes Glossier's POS experience modern, but it works to make your shopping experience feel less transactional.
What's more, Glossier's UX is on point. Their product pages include upsells and cross-sells to related products, they cite clinical trials and steps on how exactly to use the product. The photos for their makeup products also include how it looks on many different skin types to give customers a realistic idea of what it would look like on them. Their website also features a skincare quiz that offers customized results on which Glossier products you could benefit from.   
6. RELYING ON WORD OF MOUTH
Considering the fact that 92% of people are more likely to buy something based on the suggestions of their friends and family rather than advertising, it's no wonder why one of Glossier's main sales strategies is word of mouth. 
In Glossiers words, "peer referrals are extremely powerful, and they're really important to our brand, which is why we actively build programs that give our most engaged customers new ways to share Glossier with their friends." That's why they started with a referral program where customers who refer their friends to Glossier can offer them a 20% discount on their first purchase. With this system, customers can earn a maximum of $500 in-store credit each year if their friends ordered some Glossier products.
7. LAUNCHING A SWEEPSTAKE
Glossier took the time to really learn how and where their target customers shop and spend their time. The week before the launch of their new serum set, Glossier promoted a successful sweepstake post in a niche beauty-lover subreddit called Skincare Addiction.
After clicking on the link, you're redirected to a custom landing page where you enter your email for a chance to win their entire set of serum. This strategy helped Glossier grow their email list and increase visibility with devout beauty redditors.  
8.
POSTING
FREQUENTLY ON LAUNCH DAY
Launch day is a big deal, and it should be treated like one. On the day of the launch of their new serums, Glossier treated it like an all-day event. They had sign on and off posts on their Facebook page, they actively responded to every follower's question on social media messages and comments, they shared their press coverage in real time, they cross-promoted their launch on blog, and they celebrated their launch on the streets of NYC while wearing themed outfits (while posting about it on Insta, of course). Everywhere you went, Glossier was reminding you of their launch.
---
Are you getting ready to launch your product soon? Want some free resources to help you get started on planning? Take our "What Iconic Beauty Brand Founder Are You?" quiz. On your results page you'll find lots of great resources for helping grow traffic, brand awareness and prep for your next launch! 
Written by Aggie Burnett & Keemia Kaboli.