If there's one thing I've learned throughout my 14 years in the beauty industry, it's that the steps prior to your beauty product launch are often make-or-break. 
And, as I witnessed time and time again while helping budding brands reach cult-status level, there are several launch strategies that should not be taken lightly. Regardless of whether you're selling a $300 anti-aging cream or a $20 beauty blender, the way you launch matters. Getting these steps right early on will help you launch your product with clarity and ensure the desire from your customer right out of the gate.
Keep reading to learn the most common launch mistakes to avoid so you can kick off your beauty brand like a pro.
The 4 Most Common Mistakes Beauty Brands Make During Their Launch & What You Can Do To Avoid It
Many beauty product launches come down to the same few key mistakes. I'm going to share these pitfalls and tie in actionable tips so you can avoid these errors during your next launch.
1. Not getting their pricing right out of the gate. 
Pricing is one of the most essential decisions you'll make for your brand; it impacts every aspect of your business. While it's possible to change your pricing down the road, over or underpricing your products may leave you scrambling to protect your brand's reputation and prevent you from getting more sales from the get-go. 
In order to get your pricing right, you'll want to look at a few factors. First, calculate your product costs. Take into account current charges as well as future charges, such as your raw ingredients, packaging costs, product damage costs, returns, sampling, marketing, accounting, and more.  
Second, compare the average price per unit of your product vs. your competitors. Make sure you're comparing apples to apples by using a standard volume metric like milliliters. 
Lastly, consider your price positioning and how that appeals to your target customer.  Is your customer a bargain shopper looking for quality but always at a good deal? Or are they all about that luxurious, white-glove experience, with gifts and unboxing galore? Depending on your target customer, you'll want to adjust your pricing accordingly. 
When you get into the mind of how your customer shops and what they value in a beauty brand experience, you'll have the opportunity to leverage pricing as part of your launch strategy and optimize sales consequently. 
The takeaway:

Do your research and consider factors like market standards, target customer, and operational + cost of goods expenses in order to price your product successfully in preparation for your launch.  
THE BEAUTY BUSINESS PRE-LAUNCH (AND LAUNCH) CHECKLIST
Grab the only pre-launch and launch checklist specifically created for beauty, health and wellness brands.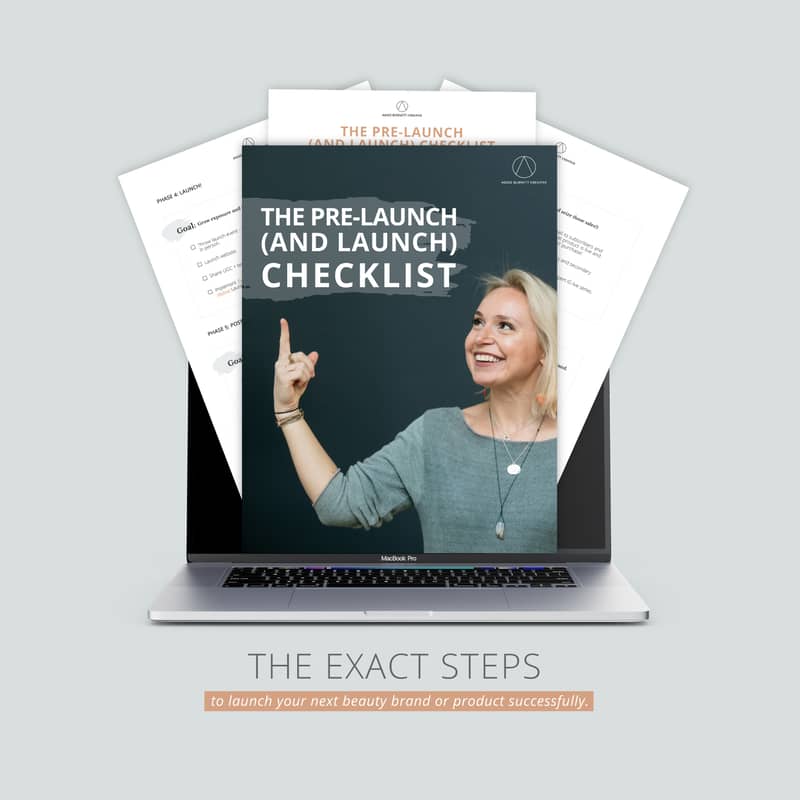 2. Not timing your launch with consumer demand trends. 
Here's a fun fact for you: the tenth biggest reason that new businesses fail is due to mistimed product launches, according to the Small Business Administration. Unideal timing could mean launching during a national holiday that's taken everyone's attention.  
Timing is everything. Plan your launch so that it's not conflicting with a major political event (definitely don't launch around Election Day unless your product is specifically tied to this event) or a holiday like Labor or Memorial Day when everyone will be away at the beach with their families (again, unless your product is specifically tied to a vacation/beach theme like a sunscreen).
Have you ever seen an SPF brand launch in the winter? No, that's because cold winter days are typically not the time where sun protection formulas are on the minds of most consumers.
Take a look at the calendar, at different holidays, themes, events, seasons, etc. and see where your product will most naturally fit with the activities and interests of your target customer. 
Insider Tip: Thinking of launching your product or brand during the holidays? Think again. Yes, this is the business time of the season when established beauty brands or brands with investor backing make much of their annual revenue and then some.
However, if you're an emerging brand looking to strike out hot, it may be challenging to stand out and get noticed in all that holiday noise. Consider launching in January and February where you'll have more space to grab the attention of influencers and customers alike. 
The takeaway:

Plan your launch for a time you know your customers will be ready, willing, and able to shop.
3. Not including storytelling in your product description. 
Many product descriptions leave consumers feeling nothing. A description is more than just a simple list of its features and benefits. Considering that the average time a shopper stays on a website is only 15 seconds, your product page should be optimized in a way that makes these potential customers feel something.
If they can't envision themselves or get a sense of how they'll feel using your product, it becomes highly likely that you'll lose out on important sales.
Storytelling is critical in marketing a product effectively…now more than ever; make sure you're telling yours well. First and foremost, when it comes to product descriptions, focus on the benefits.
Tell a story of how this product is going to help your customer lead a more amazing, free, and beautiful life. Will it raise their status in some way? Will they gain more confidence? Then share and show that inspiration. Share the why behind the what.
Share your founder story. Write the copy in your target customer's brand voice. 
The takeaway: Bring on all the feels! Facts and figures tell, stories sell. 
4. Not investing in good product photography. 
Too many brands share generic product photos with no emphasis on detail or their brand's unique essence. What's worse, some brands only include a single photo on their product page, leaving shoppers unsure about what they can really expect. Don't be that brand.
It's not worth going through with your launch if your brand's photography, packaging, or website are not totally ready. Repetition is key here. Your launch isn't the time to start testing out new colors, visuals, and typography, this needs to all be decided far in advance of your launch. If that means pushing back your launch date until you're ready, then so be it.
You don't have to do a photoshoot for every new product launch, but you DO have to have a clear theme and aesthetic that you're going for with your product launch- this is no exception if you're primarily using stock photos and videos. In order to get your visuals right for your product launch, plan in advance.
Action tip:

create a vision board on Pinterest that focuses on your brand's desired key theme whether it's bohemian, fall, holiday, NYC, beach, or SpongeBob (yes, this was an actual theme for a recent makeup product launch). Whatever you decide on, make sure you're consistent with this color palette and theme throughout the entirety of your launch.
In your photo carousel on your product page, consider showing images of the texture of your product or swatches on different skin colors, as well as stop motion videos (the latest trend for beauty product photography). 
The takeaway: Your visuals matter. Before you launch, make sure you have visual content ready and planned out for your pre-launch and launch time frame. It should be consistent with your brand color palette or a chosen theme and present all aspects of your product. 
Creating a successful beauty product launch is all about preparation. Before your product is on the market, it's essential to hone in on important factors like launching at the right time, investing in product photography, featuring copy that incorporates storytelling to captivate your audience, and selling at a strategic price that will attract your target customers.  
Ready to discover more launch tips? Take our quiz, "What Beauty Brand Icon Are You?" The results pages are stocked with my free resources and goodies, some of which are only available to those who take the quiz. 
Want to learn more about the course I'm building that will have you launching your product with momentum, buzz, and fanfare, right out of the gate?  Shoot me a DM on IG @aggieburnett 
Written by Aggie Burnett & Keemia Kaboli.